Quick Links To Plumbing Manufacturers
Major manufacturers of plumbing fixtures, have information on their websites that is valuable to consumers.
These links will take you directly to the manufacturers' websites. For example, you may find additional information about your current faucet or one that you are considering getting as a replacement.
Please contact the Service Department at R.E. Robertson at 410-757-0023 or by e-mail with your questions.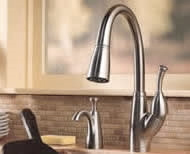 Delta - Delta has made its name with a solid history of technological innovations. With Touch2O Technology it doesn't matter if you have two full hands or 10 messy fingers, tap the touch faucet anywhere on the spout or handle, and the water is running. Touch2O Technology can also help you conserve water.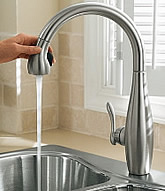 Kohler - Kohler sinks, toilets, bathtubs, faucets and other plumbing fixtures for kitchens and bathrooms are distinctive and long-lasting. Kohler emphasizes bold, innovative style and function.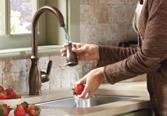 Moen - Moen offers a diverse selection of kitchen faucets, kitchen sinks, bathroom faucets and accessories, and showering products. Moen products combine style and functionality with durability for a lifetime of customer satisfaction.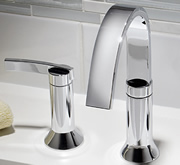 American Standard - American Standard provides residential and commercial toilets, faucets, furniture and bath fixtures including several distinctive flushing systems.

Gerber - Gerber is a leading manufacturer of high performance plumbing fixtures, faucets, toilets, bathroom accessories and fittings.