What Our Customers Say
Over the years, we have received numerous thank you notes from our customers. Here are a few.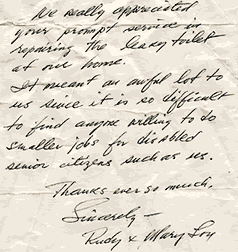 We really appreciated your prompt service in repairing the leaky toilet at our home. It meant an awful lot to us since it is so difficult to find anyone willing to do smaller jobs for disabled senior citizens like us. Thanks ever so much.

Thank you very much. It is wonderful to be able to leave a note, go to work, and come home to find everything taken care of. We had happy flushing June 11. There were 30 some people here. Thanks.

Bill for "Labor to remove GI Joe from toilet as directed."
The little devil has a whole division. You'll probably hear from us soon.
"It was a complicated job, re-routing some old water pipes and tying them into a new system in an historic building. I asked if the supervisor could came out to the job to figure out the problem before sending the service plumbers.

When the supervisor said 'Yes, I'll be there tomorrow,' I was surprised. No one seems to do that anymore. The next day, he looked at the problem, diagnosed it and gave the information to the plumbing crew. It was fixed in a few days.

Experience, reliability and strong leadership came together to make working with R.E. Robertson a great experience."