Things that we use everyday need to be clear and work well. Your website is no different. It needs to be clear, workable, informative, easy to use and interesting.
Who wants to waste their time tackling a task that is so (needlessly) difficult that it is probably not worth the effort?
Whether we are trying to find something, do something or learn about something, we want the process to make sense, be efficient and enjoyable.
Ask yourself these questions:
Why would anyone come to your website in the first place?
Once they get there, what are they interested in?
Why should they stay at your site?
And... why would they come back?
You've got it. We all have a lot to do everyday. Trying to figure out a company's confusing website is definitely not one of our priorities in life. As a user, I have lots of choices, and they're just a mouse-click away.
You need to be thinking of me, the user, and my time if you expect me to use your web site!
We design the architecture and the flow of the web site, not just the individual pages. We make it easy, fun and interesting to get around your web site.
Want to know more?
Usability Testing
Usability Review
The Famous Teapot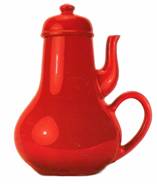 Looks nice... but think about using it.
It has a fundamental flaw that soon becomes apparent.
The illustration comes from Dr. Donald Norman's usability classic, The Design of Everyday Things.