Is your website still clear, informative and interesting?
Is your website useful, intuitive and easy-to-use by today's standards?
Does your website have a face that only its mother could love?
It may be time for a serious re-design of the content, the graphic appearance and the strange code that makes it all work.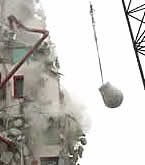 We might be talking about:
Just a touch-up,
A serious make-over,
... Or a wrecking ball.
When these components come together, it results in good design that works for you and your audience.
E-mail Workable Web Solutions in Annapolis, Maryland to discuss the options for re-designing your website.